1.6: Novelty Snow Globes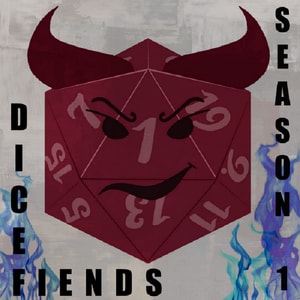 Semloh's Excellent Adventure
In which our Heroes grab meet new friends, grab some whiskey, and confirm their suspicions.
Thank you for listening!
Thanks to @KurrysChatter for the logo design. The tracks used in this episode are "Our Story Begins", "Investigations", and "Not As It Seems" by Kevin MacLeod (http://incompetech.com), licensed under Creative Commons: By Attribution 3.0. Full transcripts of the show can be found on our website.
Shout-out to our friends over at Dice Envy! We love your dice and we think our listeners will, also!
Find Us Online:
- Website
- Patreon
- Twitter
- Discord
- Twitch
Cast and Crew:
- Dungeon Master: Eric Szypulski
- Semloh: Angel Powell
- Freedom: Michelle (Special Guest)
About Us:
The Dice Fiends podcast is a live play Dungeons and Dragons 5th edition podcast featuring a wonderful cast of chuckle-friends. This group of Fiends are composed of an unlikely combination of people brought together by Dungeons and Dragons. We are a collaboration of D&D experts and D&D newbs, but most of all, we're fiends for the sound of rolling dice.