Pirates Adventure: Reavers of the Union
The Plan
2 years ago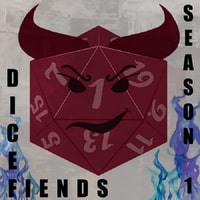 In which our Protagonists get their assignment and travel waters less taken
Mei practices shooting, Pansy and Tennibris search for information, El Cohete takes a seat, and Rhunyn is fine
Thank you for listening!
Thanks to @KurrysChatter for the logo design. The track used in this episode is "Pirate Crew" by Ross Bugden, licensed under Creative Commons: By Attribution 4.0.
Shout-out to our friends over at Dice Envy! We love your dice and we think our listeners will too!
Find Us Online:
Website: www.dicefiends.com
Patreon: www.patreon.com/dicefiends
Twitter: www.twitter.com/dicefiends
Discord: https://discord.gg/j54Frbh
Twitch: www.twitch.tv/thedicefiends
Cast and Crew:
About Us:
The Dice Fiends podcast is a live play Dungeons and Dragons 5th edition podcast featuring a wonderful cast of chuckle-friends. This group of Fiends are composed of an unlikely combination of people brought together by Dungeons and Dragons. We are a collaboration of D&D experts and D&D newbs, but most of all, we're fiends for the sound of rolling dice
Find out more at https://dice-fiends-pod.pinecast.co
This podcast is powered by Pinecast.