1.20: Shut up and take Semloh with you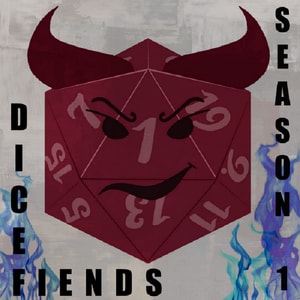 Family means never having to go alone, also volunteering someone else to go into danger
In which our heroes delve ever deeper into the temple of Dyne.
Mol Birdboxes,Gwenniss displays a surprising amount of patience, Kallista gives a rousing speech, and Semloh takes a leisurely walk down the stairs.
Thank you for listening!
Thanks to @KurrysChatter for the logo design. The tracks used in this episode are "Our Story Begins", "Enchanted Valley", and "The Forest and the Trees" by Kevin MacLeod (http://incompetech.com), licensed under Creative Commons: By Attribution 3.0. Full transcripts of the show can be found at www.dicefiends.com.
Shout-out to our friends over at Dice Envy! We love your dice and we think our listeners will too! Go check out their Hinterland Dice Preorder and get yourself some chonky bois and a free adventure!
Find Us Online:
Website: www.dicefiends.com
Patreon: www.patreon.com/dicefiends
Twitter: www.twitter.com/dicefiends
Discord: https://discord.gg/j54Frbh
Twitch: www.twitch.tv/thedicefiends
Cast and Crew:
- Dungeon Master: Eric Szypulski
- Molpadia: Amanda Joyce
- Semloh: Angel Powell
- Gwennis: Kiara Mueller
- Kallista: Dallas Wheatley
About Us:
The Dice Fiends podcast is a live play Dungeons and Dragons 5th edition podcast featuring a wonderful cast of chuckle-friends. This group of Fiends are composed of an unlikely combination of people brought together by Dungeons and Dragons. We are a collaboration of D&D experts and D&D newbs, but most of all, we're fiends for the sound of rolling dice