The Festival of Excess: Part 2
Or how to stop an evil plot.
2 years ago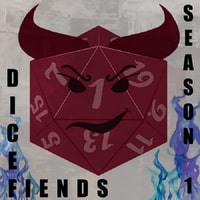 The exciting conclusion to The Festival of Excess, will our heroes save the day or will the time honored festival go up in smoke?
Thank you for listening!
Thanks to @KurrysChatter for the logo design. The tracks used in this episode are Our Story Begins, Mountain Emperor, and The Forest and the Trees by Kevin MacLeod (http://incompetech.com), licensed under Creative Commons: By Attribution 3.0. Full transcripts of the show can be found at www.dicefiends.com.
Find Us Online:
Website: www.dicefiends.com
Patreon: www.patreon.com/dicefiends
Twitter: www.twitter.com/dicefiends
Discord: https://discord.gg/j54Frbh
Twitch: www.twitch.tv/thedicefiends
Cast and Crew:
- Dungeon Master:Dallas Wheatley
- Trip: Amanda Joyce
- Babam: Kiara Mueller
- Banjo: Eric Szypulski
- Mawdryn: Adam (guest)
About Us:
The Dice Fiends podcast is a live play Dungeons and Dragons 5th edition podcast featuring a wonderful cast of chuckle-friends. This group of Fiends are composed of an unlikely combination of people brought together by Dungeons and Dragons. We are a collaboration of D&D experts and D&D newbs, but most of all, we're fiends for the sound of rolling dice.