1.1: Mending Can't Fix a Broken Heart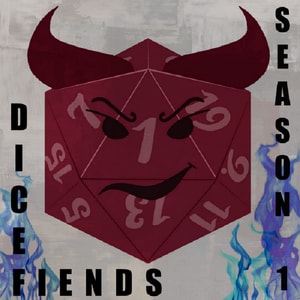 Dangerous daggers + a smuggled griffin = family reunion
In which our heroes catch up on what they did, sleep in, and endure mostly emotional damage.
Thank you for listening!
Thanks to @KurrysChatter for the logo design. The tracks used in this episode are "Our Story Begins", "Enchanted Valley", and "The Forest and the Trees" by Kevin MacLeod (http://incompetech.com), licensed under Creative Commons: By Attribution 3.0. Full transcripts of the show can be found at dicefiends.com.
Find Us Online:
Website: www.dicefiends.com
Patreon: www.patreon.com/dicefiends
Twitter: www.twitter.com/dicefiends
Discord: https://discord.gg/j54Frbh
Twitch: www.twitch.tv/thedicefiends
Cast and Crew:
- Dungeon Master: Eric Szypulski
- Molpadia: Amanda Joyce
- Semloh: Angel Powell
- Gwennis: Kiara Mueller
- Avi: Chris (guest)
About Us:
The Dice Fiends podcast is a live play Dungeons and Dragons 5th edition podcast featuring a wonderful cast of chuckle-friends. This group of Fiends are composed of an unlikely combination of people brought together by Dungeons and Dragons. We are a collaboration of D&D experts and D&D newbs, but most of all, we're fiends for the sound of rolling dice.